Special issues of "Herald of the International Academy of Science. Russian Section".
Special issue #1, 2011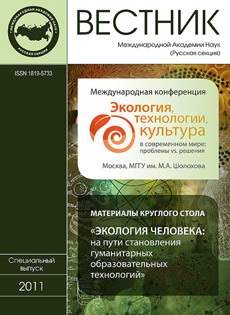 Special issue #2, 2010
Proceedings of the International Conference "Ecology, Technology, Culture in the Modern World: Problems vs. Solutions, Moscow, M.A. Sholokhov MSUH, October 26-27, 2010
Special issue #1, 2010
Round table Proceedings "Ecological Potential of the Education at School and University" in the International Conference "Ecological Problems of the Global World" Network.
Special issue #1, 2009
Electronic edition of the International Conference proceedings "Ecological Problems of the Global World". Moscow, M.A. Sholokhov MSUH, October 26-27, 2009